Dogecoin burst onto the scene in early 2021, generating enormous profits for investors who had taken a gamble on the digital currency. However, since then, Dogecoin has retreated markedly – but is there still scope for further gains to be made? So, in this article, we'll present our Dogecoin Price Prediction for the months and years ahead.
Specific attention will be paid to how Dogecoin has performed recently and where it could go, followed by a review of the best place you can buy Dogecoin – commission-free!
Dogecoin Price Prediction 2021 to 2022
Are you looking for a quick Dogecoin price forecast over the short term? Look no further! Below you'll find our Dogecoin forecast from now until 2022, determined through extensive analysis from our research team. Our Dogecoin prediction 2021 is based on the Dogecoin price today and where it could head over these timeframes.
One Month – If Dogecoin's community can spur some bullish momentum, the price of Dogecoin could likely head towards the previous resistance of $0.2630.
Three Months – If this resistance is broken and bullish momentum continues, the next resistance level would be around the $0.4230 level – which could be reached within the next three months if the stars align.
Start of 2022 – Given the Dogecoin price history, we know that this cryptocurrency has the potential to skyrocket. With that in mind, there's certainly scope to reach the all-time highs of $0.7400 by the beginning of 2021.
Dogecoin Price History – the Story of 2021 So Far
If you are looking to buy Dogecoin, it's a good idea to look at the asset's price history and what has led up to this point. Much like other cryptocurrencies, Dogecoin is entirely digital and has taken the cryptocurrency market by storm in recent times. First, let's look at what Dogecoin is and then dive into our Dogecoin price prediction.
Dogecoin is a digital coin created by two software engineers, Billy Markus and Jackson Palmer. It's common knowledge that Dogecoin was actually started as a joke between the two friends – hence the usage of the Shiba Inu dog as the logo, which features prominently in the famous 'Doge' meme. The Dogecoin meme coin was launched in 2013 and has grown to have a market cap of $25.56 billion, according to Yahoo Finance.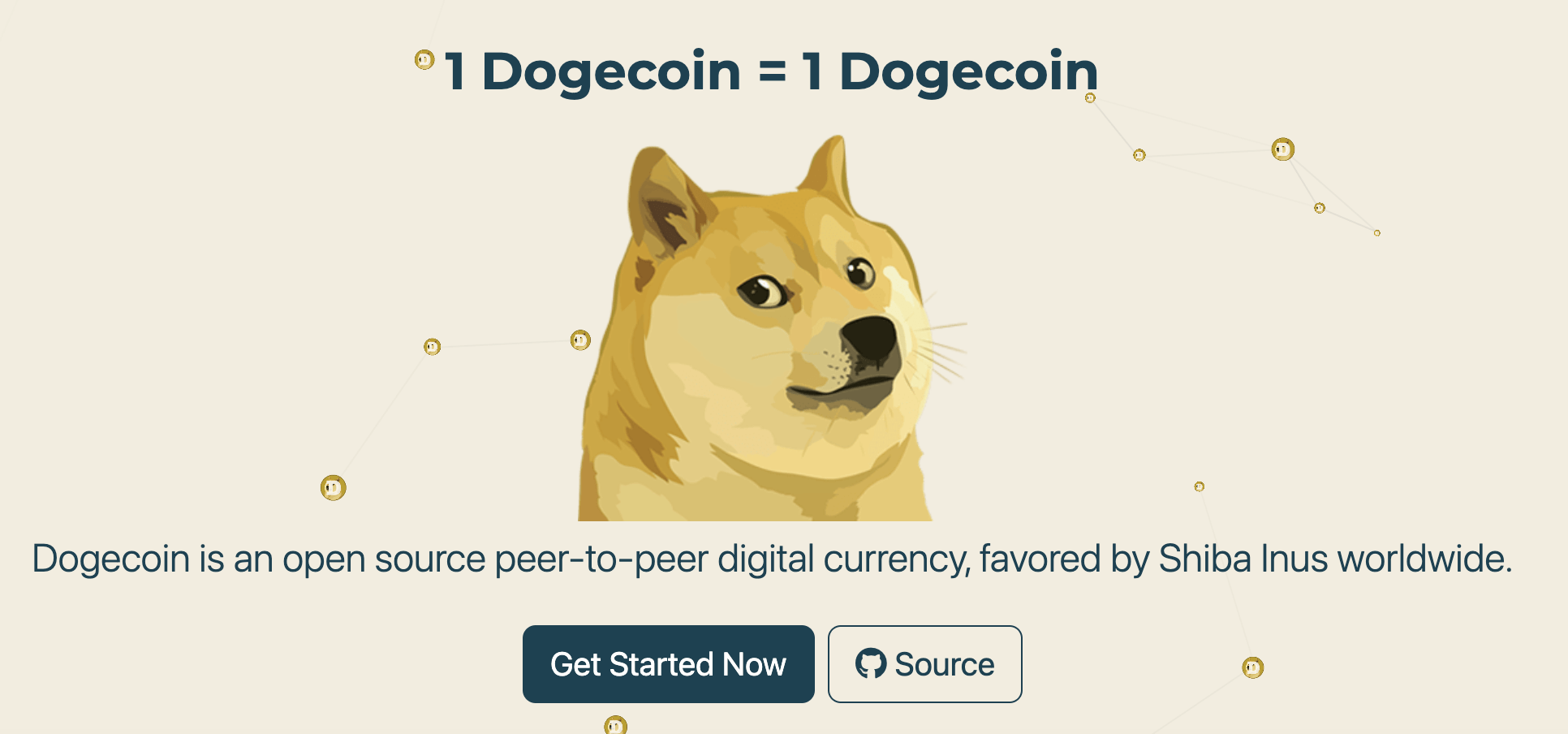 The Dogecoin price live is currently sitting at $0.1950 – which is an increase of 4011% since the turn of the year. Looking at this metric in isolation, you'd probably be amazed at this increase and believe that Dogecoin is rocketing upwards, but that isn't the case. In fact, Dogecoin is currently sitting 73% below the all-time highs reached in May 2021.
The momentum for these highs began in January 2021, as Dogecoin rose by around 800% in a day. This was down to communities on Reddit choosing to invest in Dogecoin as a joke, following the Gamestop short squeeze. After this incredible price rise, many people stated that Dogecoin looked like the next cryptocurrency to explode.
Following this price boost, Dogecoin began gaining more traction in the media, with famous people such as Elon Musk and Snoop Dogg referencing the coin in Twitter posts. This added more fuel to the fire, which was further exacerbated when the billionaire Mark Cuban allowed his NBA team, the Dallas Mavericks, to accept Dogecoin as legal tender for customers to purchase tickets with. As you can imagine, this boosted Dogecoin higher.

67% of retail investor accounts lose money when trading CFDs with this provider.
The main push in Dogecoin's price occurred in April and May of 2021 when Coinbase 'went public' through a Direct Public Offer (DPO). This allowed investors to purchase shares in the crypto broker, which prompted price rises across the board for all cryptos. Although Dogecoin wasn't even listed on Coinbase, the bull run for the crypto market benefitted Dogecoin too, pushing the price to all-time highs.
However, all good things have to come to an end, and Dogecoin began falling in May 2021. This drop was exacerbated by Elon Musk's appearance on Saturday Night Live, in which he referenced Dogecoin. The price bubble essentially 'burst', and Dogecoin began falling to the levels we see today.
Dogecoin Price Forecast
Now that you have a good overview of how Dogecoin got to this point, let's look at our Dogecoin stock forecast for the future. When researching our Dogecoin price prediction, we've considered both technical analysis and fundamental analysis to provide an accurate forecast. These elements are broken down below, giving insight into whether Dogecoin is a good investment.
Technical
Dogecoin has shown some positive signs in recent weeks, rising around 22% since mid-July. However, more momentum is needed to break out of the consolidation zone that the price is currently in. Fortunately, the stars are aligning for some bullish momentum in the future due to numerous price action factors.

Firstly, as you can see from the price analysis above, Dogecoin's price is trapped in a falling wedge pattern. Usually, when this happens, it means that a bullish break is due to happen anytime soon – which is excellent news for Dogecoin investors. There is also a strong support level around the $0.1700 region, which seems to be containing the Dogecoin price.
If Dogecoin can break out of the falling wedge pattern and provide a strong close on the 4H or Daily timeframes, it'll offer more credibility for a bullish push. If so, Dogecoin may represent the best cryptocurrency to buy for the remainder of the year.
Fundamental
Aside from technical analysis, it's also a good idea to look at fundamental and news analysis. Notably, Dogecoin doesn't seem to have a practical use case in a business sense. Unlike Bitcoin, Ethereum, XRP, or Litecoin, the Dogecoin crypto hasn't found a place in the digital currency ecosystem yet.
Dogecoin does operate on a blockchain platform, working as a distributed ledger like other cryptos. Due to this, there is undoubtedly scope for Dogecoin to be used more practically going forward. Interestingly, due to Dogecoin's 'meme' status, users on social media platforms such as Reddit and Twitch have begun using it to transfer money to other users.
In the future, Dogecoin could certainly experience some price increases if it can partner with other financial institutions. Our Dogecoin prediction is that the coin will continue to gain traction as a method of exchanging value. Some homeowners are even putting their houses on the market and accepting Dogecoin as payment! If this continues to happen, we could see some significant moves in the market.
Dogecoin Price Prediction Long Term Outlook
Moving on to our Dogecoin price prediction over the long term, the outlook seems quite promising for this crypto. If you look at the Dogecoin price chart, it may look quite worrying – but the fact is that Dogecoin is still up 4011% since January 1st! The low price of Dogecoin at present can be thought of as an opportunity rather than a problem since it provides scope for exceptional returns in the future.
One of the critical elements to consider when looking at any Dogecoin forecast over the long term is where users can trade it. At present, only a few crypto trading platforms offer Dogecoin for investment, which makes it difficult for price to gain momentum. Dogecoin must position itself to be listed by other crypto trading platforms, increasing liquidity and boosting the price.
67% of retail investor accounts lose money when trading CFDs with this provider.
The good news in terms of the Dogecoin price prediction is that numerous analysts and experts have a bullish sentiment towards the crypto. Bitcoin.com reported recently that experts from Finder are predicting some serious value increases over the next few years. These Dogecoin price predictions put the coin's value at around $1.21 by 2025 – which would be an increase of approximately 515% from today's price!
At present, Dogecoin's price is trading below the 50-day EMA, indicating a downtrend. Notably, the price did test this EMA in July, although it did reject off this level. Right now, the price is just below the EMA – if Dogecoin's price can sustain above this indicator, it could provide the impetus for a long-term uptrend.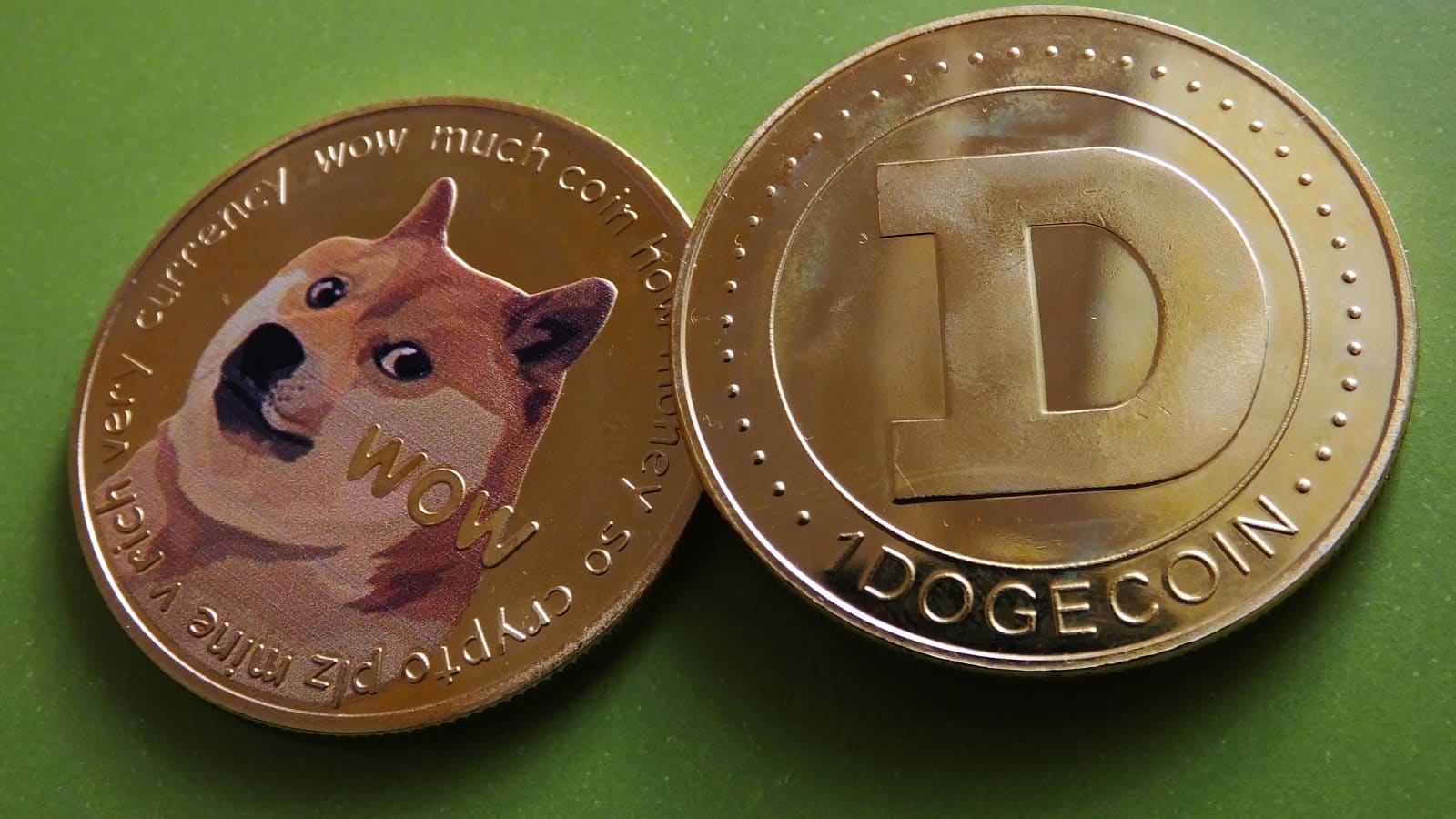 Looking ahead, we are inclined to agree that Dogecoin does have the potential to breach the $1 mark by 2025. The Dogecoin community is powerful, with solid backing from Reddit and Twitter. Furthermore, numerous celebrities are fans of Dogecoin, which helps play into the 'popularity' of the crypto. These factors cant be understated in determining an asset's value.
Even further ahead, our Dogecoin price prediction 2030 also presents a bullish outlook. This would give Dogecoin a nine-year timeframe to bolster its use case and generate real market momentum. If Dogecoin can partner with some significant financial entities and continue being adopted for things such as payment transfers and house sales, there's scope to breach the $2 mark by 2030 – and maybe even beyond!
Dogecoin Price Chart
As noted earlier in our Dogecoin price prediction, Dogecoin's price has had a crazy year. If you look at the price chart, the eye is immediately drawn towards the considerable spike that occurred in April and May, when volatility was at its highest. Since then, the price has fallen drastically, wiping large parts off of Dogecoin's value.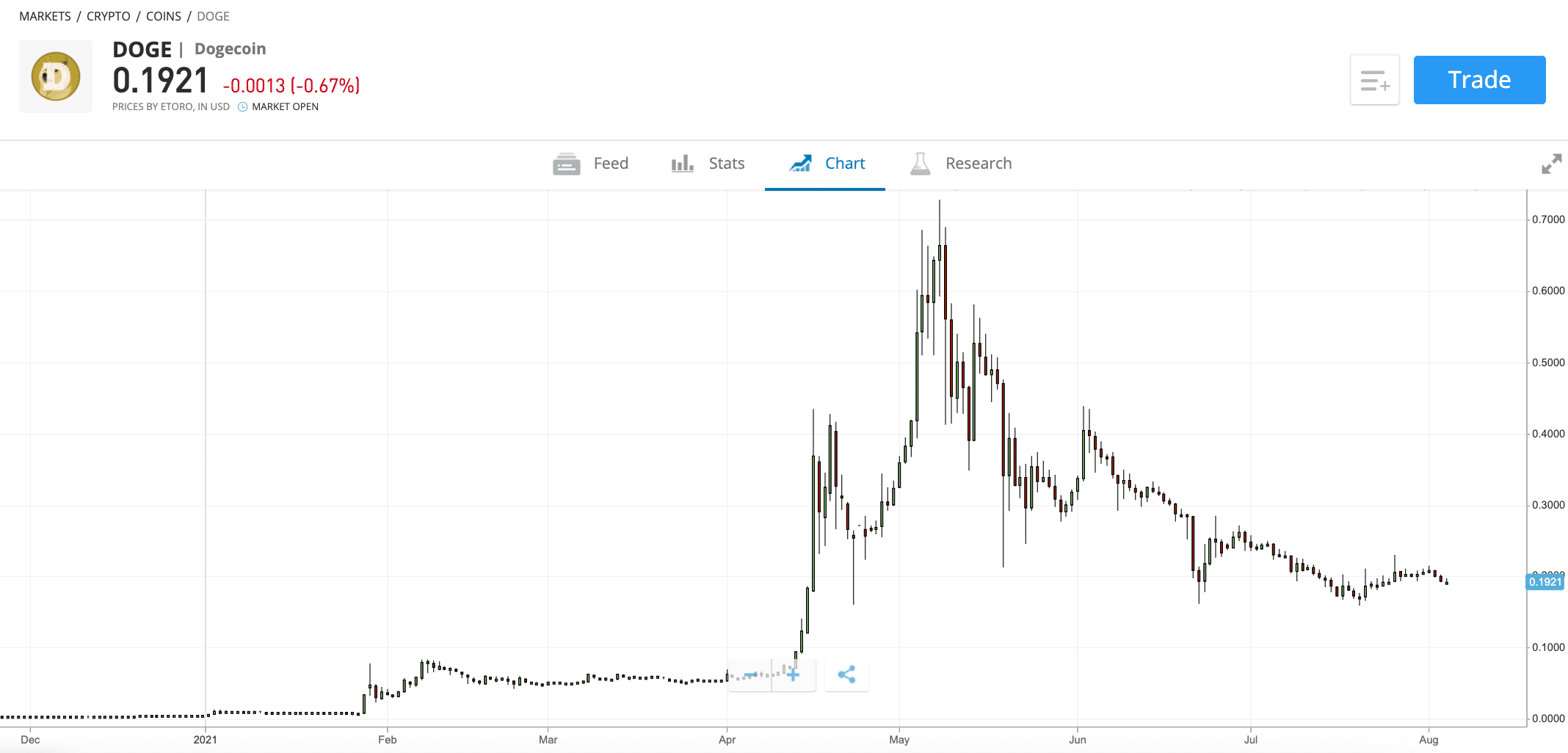 67% of retail investor accounts lose money when trading CFDs with this provider.
Much of Dogecoin's momentum has been brought about by hype rather than logical factors. Elon Musk's interest in Dogecoin was one of the major stimuli for the coin's price increase; however, since the hype has cooled off, Dogecoin's price hasn't been able to sustain any sort of upwards momentum.
Notably, bearish momentum has begun to slow slightly, with some bullish impetus showcased in the price chart. As Dogecoin is currently in a tight falling wedge pattern, price needs one 'push' to help it break out and head upwards. If this occurs, we could see moves back towards the $0.2600 level, with the $0.4200 level being the next target after that.
Where to Invest in Dogecoin
Now that you have an understanding of Dogecoin through our Dogecoin forecast, it's time to discuss the investment process. To purchase Dogecoin, you'll have to create an account with one of the best crypto brokers or crypto exchanges. These platforms pair buyers and sellers and allow you to invest in crypto easily.
Through extensive research and testing, we've found that eToro is the best place to buy Dogecoin at present. As noted earlier, eToro is one of the few places that offers Dogecoin trading, as many other exchanges don't provide Dogecoin as a tradeable asset. Furthermore, eToro is regulated by the FCA and CySEC – and is even protected under the FSCS in the UK.
eToro offers 0% commissions when you place crypto trades on their platform, ideal for people looking to invest cost-effectively. The minimum investment is only $50, ensuring that Dogecoin trading is accessible for people of various income levels. What's more, eToro even offers a dedicated trading app for iOS and Android, allowing traders to invest on the go.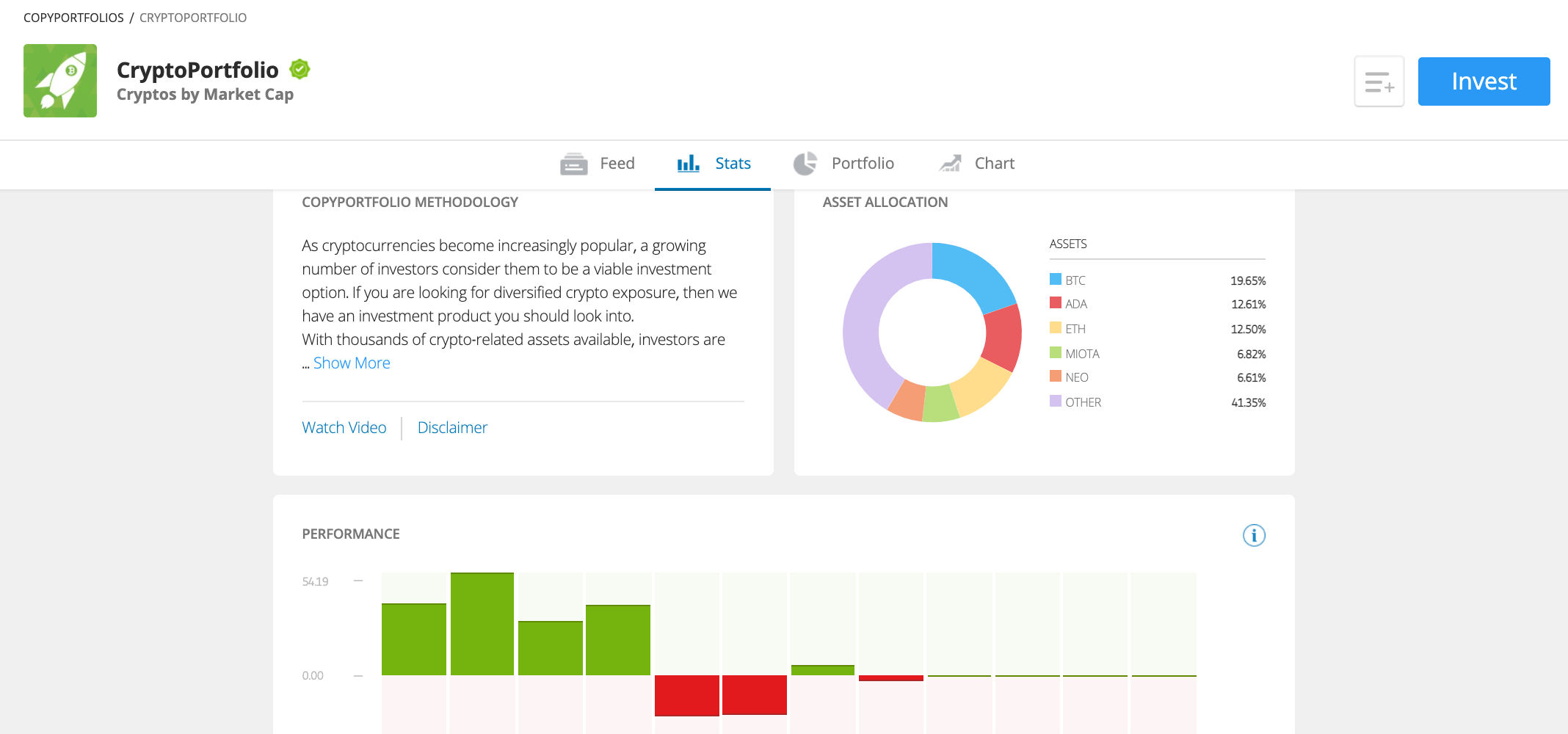 Aside from fees, eToro also excels when it comes to additional features. Users can benefit from eToro's CopyTrader feature, which allows you to seamlessly and automatically copy the trades placed by other eToro users. Furthermore, eToro also offer a CopyPortfolio feature, which enables you to invest in a professionally managed portfolio – without having to pay any management fees! Notably, there's even a CryptoPortfolio, if you wish to gain exposure to numerous digital currencies.
Finally, all deposits are free to make and can be made via credit/debit card, bank transfer, or various e-wallets such as PayPal and Neteller. eToro even offers a handy newsfeed feature, which provides real-time updates on market events, ensuring you have all the information you need to invest effectively.
Dogecoin Price Prediction – Conclusion
Overall, Dogecoin has been on a crazy ride in the last 6-7 months. The coin came out of nowhere in early 2021 thanks to the hype driven by Reddit and Twitch, which pushed Dogecoin into the limelight. Although the upwards momentum has died down recently, Dogecoin does still have solid community backing. If we can see some sustained bullish moves, there's certainly scope to return to the all-time highs of May 2021.
So, if you'd like to buy Dogecoin today, we'd highly recommend using eToro. eToro is one of the few places that offers Dogecoin as a tradeable asset, allowing users to invest from as little as $50. What's more, eToro doesn't charge any commissions when you trade crypto on their platform – meaning you avoid the hefty fees charged by some other brokers.
67% of retail investor accounts lose money when trading CFDs with this provider.
FAQs
What is the price of Dogecoin right now?
What drives the price of Dogecoin?
Where can I buy Dogecoin?
Why is Dogecoin going up?
What will Dogecoin be worth by 2022?
What will Dogecoin be worth in 2025?