Meme token Shiba Inu has continued to grow daily, with the development team adding more functionalities by the day. The self-proclaimed 'Dogecoin killer' is a popular choice aside from the parody coin, and more investors are keen to buy SHIB.
SHIB has risen 13.06% amid the general positives that the crypto market has experienced this month in a week-long rally.
This article covers what Shiba Inu aims to achieve and if this could be a signal to buy SHIB.
Shiba Inu: Popular 'Dogecoin Killer'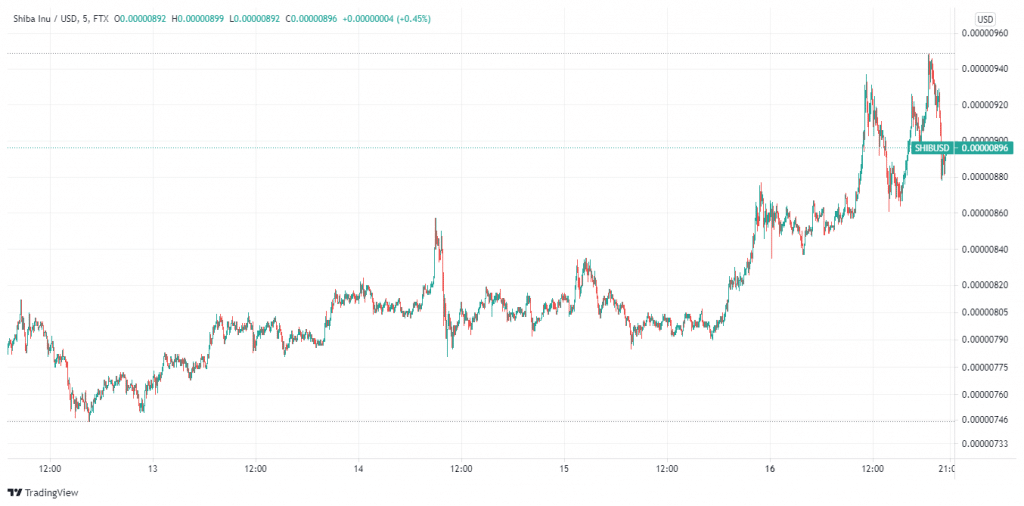 Like the top premier digital asset Bitcoin, Shiba Inu's creator is mysterious and unknown and goes by the ambiguous character of 'Ryoshi.' Launched initially in August 2020, Shiba Inu is an Ethereum-based meme token that has gained blockchain prominence in the last couple of months.
Like popular Bitcoin knock-off Dogecoin, Shiba Inu has been a revelation this past eight months. It came into the crypto limelight after it surged 21,000% in a week.
However, Shiba Inu's success has primarily been tied to Dogecoin's meteoric rise and adoption. Dogecoin became a household name after public figures like Tesla and Space X boss Elon Musk, and Dallas Mavericks owner and billionaire investor publicly supported the joke cryptocurrency.
Meanwhile, Shiba Inu has a much larger plan than just toppling Dogecoin from its high pedestal of the meme crypto ranks. According to the development team, Shiba Inu is an experiment in decentralized spontaneous community building. The team also boasts that its march towards the high walls of meme fame will see Shiba Inu become the most valuable meme token without hitting a cent.
To shoot up its value, 50% of the total one quadrillion SHIB tokens were sent to the wallet of Ethereum co-founder Vitalik Buterin to be burned while the remaining 50% was permanently locked on UniSwap.
Shiba Inu has also launched its decentralized exchange (DEX) platform called ShibaSwap. Here, users will be able to provide liquidity and earn fees for depositing their SHIB tokens. Also, it will provide an entry point into the booming non-fungible token (NFT) marketplace.
SHIB: Rallying With The Market
SHIB's entry of 21,000% rise may have sparked much interest in it, but it has largely seen its price movement impacted by Bitcoin. This means it has only risen when Bitcoin rallies and has also experienced much volatility.
All in all, SHIB has grown more in the last eight months than in the previous year. It surged to an all-time high (ATH) of $0.00003503 on May 10 before slumping with the broader crypto market. This bearish trend continued for much of June and July and only found its feet again in August.
At press time, the meme token is trading at $0.00000902, up 15.55% in the last 24 hours. This rally has seen several investors buy SHIB.
SHIB Technical And Fundamental Analysis
On the trading chart, SHIB is posting strong buy signals. The digital asset is trading above the 20-day moving average (MA) support price of $0.00000712. The green fat trend line supporting its upward rally indicates it won't be taking a dip anytime soon. Also, its relative strength index (RSI) is showing that more investors want to buy SHIB.
The oscillator is currently trading at the overbought region at 73.22.
This continued rally in the dog-themed cryptocurrency primarily lies in its rapidly expanding ecosystem. Since the launch of its DEX platform ShibaSwap, interest in the project has been at a record high, with several investors turning to the Ethereum-based project for gains.
Also, the development team is fleshing out its plans to increase the value of the SHIB token. In a tweet, Shiba Inu developers announced the beginning of a two-pronged strategy to lift the DOGE sidekick into blockchain prominence.
This strategy will see them add more trading pairs on the ShibaSwap exchange and a coin burn of its SHIB and LEASH tokens. The new currency pairs are said to be PERL-ETH and RYO-ETH.