Shiba Inu has already lost 14% of its value in just two days. 
Together with other cryptocurrencies, SHIB is under heavy selling pressure. 
Price action is nearing two interesting points of entry for long-term buyers.
Shiba Inu was in no case different from any other cryptocurrency on Monday in the market turmoil caused by rising covid cases in the US and UK. Investors are worried about a third wave that might come as economies reopen with no obligations for masks or other safety measures. 
The global risk-off wave made cryptocurrency investors run for the exit and saw outflows in major cryptocurrencies across the board. In the coming days, it will be essential to see if this correction was short-lived, delivering a good entry point for buyers to return.
Shiba Inu just inches away from the mark where buyers step in
Sellers look to completely extend the downward trend toward the base levels we had on June 11 and 22. That is around $0.00000559 and $0.00000545. Just above those two levels, we have the monthly S2 support pivot coming in that might also act as a trigger. Those levels will complete the swing we had to the upside and might be the point where short sellers buy themselves in order to take profit in SHIB.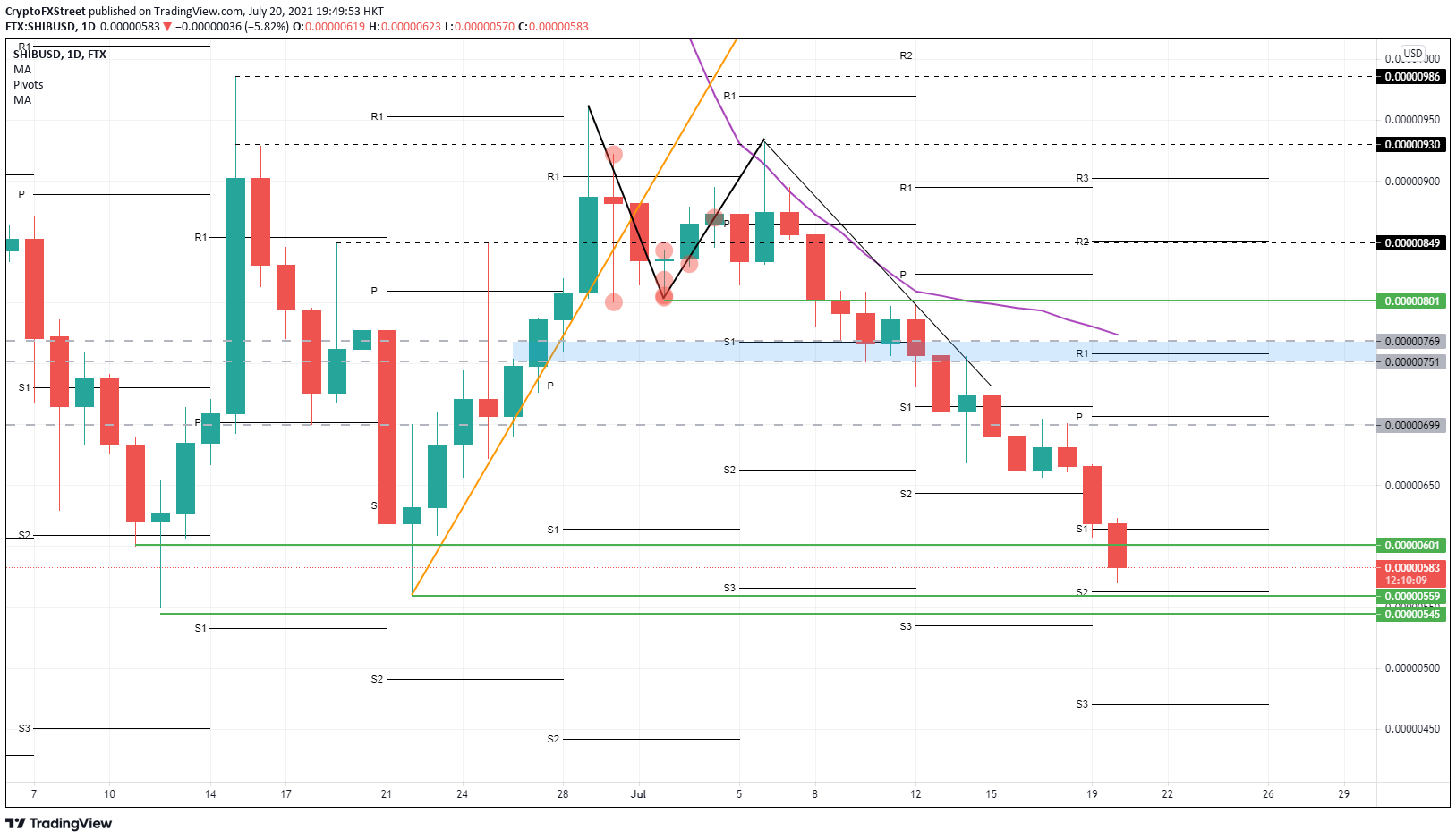 SHIB/USD daily chart
It is essential that SHIB price requires a catalyst and additional support from any favorable tailwinds in the market to attract buyers at these levels. The risk is that buyers who got stopped out during the rundown will want to wait and look for a discount in fair value before stepping into any long trades. 
This could be, for example, the global markets returning to risk and investors having an appetite again for assets like technology stocks and cryptocurrencies. It is important to be aware of the surrounding general sentiment before going long in SHIB. If there are still concerns about a third wave and rising hospitalizations, expect more downward pressure on Shiba Inu price.