Dogecoin (DOGE) is one of the most widely discussed cryptocurrencies, alongside Bitcoin (BTC) and Ethereum (ETH). Since it came into existence in 2013, it has made multiple runs into the broader crypto conscience, including retail investors and celebrities alike. 
The token currently ranks 8th among the top 10 cryptocurrencies sorted by market capitalization as per the data by CoinMarketCap. Despite its meme token status, it is one of the top altcoins that piques investor interest in the cryptocurrency markets. Currently, it has a market dominance of 1.97% of the entire market, with a market capitalization of $25.46 billion.
What is Dogecoin?
DOGE is a meme token based on the widely popular doge internet meme that features the dog breed Shiba Inu on its logo. It was launched in 2013, only 3 years after the first Bitcoin was traded in exchange for pizza in May 2010. This makes the meme token one of the early movers of cryptocurrency tokens. 
Because of the Shiba Inu meme dog being its logo, it was marketed as the "fun version" of Bitcoin. Despite its creation being the butt of a joke, Dogecoin's blockchain also has its merit especially because it is based on the underlying technology of Litecoin (LTC), one of the top 20 crypto tokens by market capitalization and trading volumes. It has the same technology behind its proof-of-work (PoW) consensus mechanism. The token uses a script algorithm, and its low price and unlimited supply of tokens are its other essential features. Currently, there is a circulating supply of 130 billion DOGE tokens.
History of Dogecoin
Dogecoin was created by Jackson Palmer of Sydney, Australia, and Billy Markus of Portland, Oregon, both of whom wanted to create a fun cryptocurrency that would expand its appeal beyond the traditional Bitcoin folks. With that in mind, the coin was based on the doge meme that depicts a picture of Shiba Inu, a Japanese dog breed, sitting with paws folded over one another. The token and network were created in just a few hours. Both Palmer and Markus abandoned the project soon after creating it. In a now-famous anecdote in the token's history, Markus sold his entire stake in DOGE back in 2015 for the equivalent of a used Honda Civic —  nearly $10,000.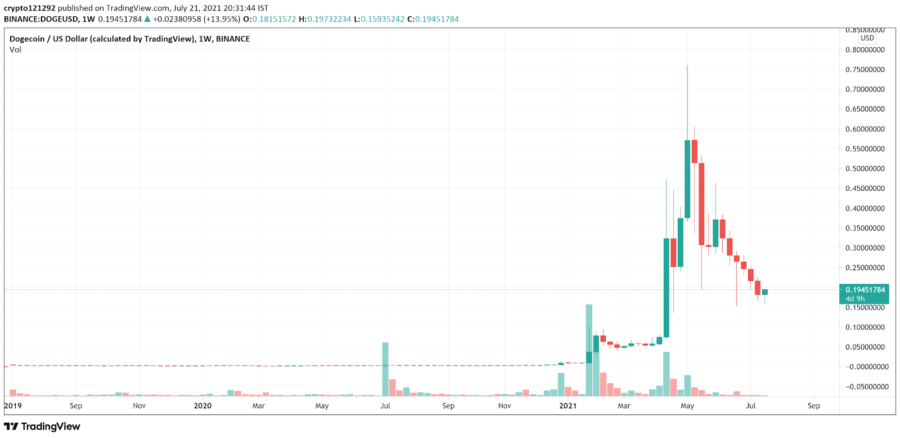 Since its inception in 2013, the token has typically traded in the sub $0.01 range until 2018. For a short duration in early 2018, the asset's price hit $0.018 before crashing to less than a penny for a couple of years. Amid the crypto bull run that began in the 4th quarter of 2020, the coin rallied yet again. This led to its price rallying back above the $0.01 mark in early January 2021 on the hype built around the token in subreddits groups like WallStreetBets.
Later in the same month, the coin's price surged up to $0.07 with 2 daily candles — a 48-hour time window. In early February, the token gained even more to trade at $0.088, after which the price dropped to $0.04 a few days later. After this, for a few months, the token's price consolidated before going into another price rally before May this year. Alongside the all-time highs of flagship cryptocurrencies like Bitcoin and Ethereum in May this year, even Doge rose quickly to exchange hands at nearly $0.74 — its all-time high.Because of the slump in the market after Black Wednesday on May 19, the price of the token started falling in tandem with the entire altcoin market, leaving it trading in the $0.20 range at the time of writing.
Elon Musk and Dogecoin
In addition to mainstream hype avenues like WallStreetBets that Dogecoin has been a part of, one of the most important advocates for the token has been billionaire Elon Musk, CEO of Tesla (NASDAQ: TSLA). The Musk effect is now one of the most well-known pseudo phenomena in the cryptoverse. Apart from Bitcoin, the impact of his statements, actions and tweets has been the largest on Dogecoin.
His tweets on Dogecoin have covered a huge range, from discussing the coin's development and its actual impact on the global financial system to posting a picture from Lion King that had Rafiki holding Simba up in celebration of this birth; in Musk's tweet, his own face replaced Rafiki's and the infamous Shiba Inu doge replaced Simba's face, which gave another symbolic push to the token.
Using Twitter, Musk also announced that he has been working with the developer community of Dogecoin to enhance and upgrade the network. He also has invited his followers to contribute to the development of Dogecoin's network by sharing the respective GitHub link.
Why is Dogecoin Down?
Currently, DOGE is trading at $0.197. This price is more than 73% down from its all-time high of $0.7376 on May 8, 2021, which was a few days before the entire cryptoverse got bogged down by the market on May 19 — a day more commonly known as Black Wednesday in the crypto community. DOGE is down from its all-time high despite Musk's appearance on "Saturday Night Live,"  which created a ripple effect that's dragged the entire altcoin market down. 
In the last 2 days, Doge has dropped to $0.1642 alongside Bitcoin, falling below the $30,000 mark. However, in another instance of the Musk effect, the token has again rallied to near the $0.20 mark, gaining more than 19% in the last 24 hours.
In the aftermath of the mainstream attention that Dogecoin got through avenues like Nascar, Musk and Saturday Night Live, there have been many meme tokens that were launched to attempt to replicate the phenomenon associated with DOGE. One of these tokens is Shiba Inu (SHIB), which has seen a lot of inattention from investors as it claims to be the Dogecoin Killer. Another that also attracted Musk's interest is Baby Doge (BABYDOGE). 
Other coins in the same sub-cryptoverse of meme tokens are Kisha Inu (KISHU), Dogelon Mars (ELON), UnderDog (DOG), Doge Token (DOGET), DogeFi (DOGEFI), Dogeswap (DOGES), PAW Token (PAW), ShibaCorgi Token SHICO) and even a CAT token released by Carole Baskin of "Tiger King" fame. It is possible these tokens could divert the interest of some of the retail investors in DOGE in an attempt to replicate gains that Dogecoin millionaires like Glauber Contessoto had because of being an early mover.
Where to buy DOGE
Because DOGE is one of the most discussed cryptocurrencies, there are plenty of avenues to buy the token for both retail and institutional investors. Most of the prominent exchanges in the cryptocurrency space have listed DOGE as an asset on offer to users of their platforms. Even major platforms in the traditional financial markets space like Robinhood offer DOGE to their users. In fact, Robinhood revealed that 34% of its crypto revenue in the 1st quarter of 2021 has come from investors trading in Dogecoin; this is highly indicative of the amount of retail investor interest that DOGE has.
Some of the top exchanges to buy and sell DOGE are Coinbase, Gemini, Webull and Robinhood. These exchanges are based in the U.S and have high liquidity, so you can rest easy knowing your funds are in good hands.
You can short Dogecoin with leverage using ByBit. If you believe the dog-themed cryptocurrency is past its prime and headed downward, shorting DOGE may be a good play for you.
So, is Dogecoin Dead?
Currently, Dogecoin's creators have been much discussed by the mainstream community because of their comments on the industry as a whole. One of the creators — Palmer — has taken to Twitter, saying that he would not return to cryptocurrencies as, despite the claims of decentralization in the cryptocurrency market, the industry is "controlled by a powerful cartel of wealthy figures." In a reaction to Palmer's rant, Markus — Dogecoin's other co-creator — said Bitcoin doesn't really do anything and that he has put his own money in a savings account and not DOGE itself.
Despite the token exchanging hands at a major price variance from its all-time high, it's not easy to conclude whether the token and the hype around it are finally dead. In spite of this drop in price, the token has been subject to consistent attention from mainstream media outlets and investors alike. 
With Musk jumping on the DOGE wagon yet again and revealing that he personally owns Dogecoin, Bitcoin and "some Ethereum," he's rekindled the market's interest in the asset. Even the deodorant brand Axe recently launched a limited edition 48-hour "crypto scent" with a "dank musk," calling it the Dogecan. Moves like these by large corporations are evidence of the fact that the interest in Dogecoin hasn't dwindled even though its price has.
Benzinga crafted a specific methodology to rank cryptocurrency exchanges and tools. We prioritized platforms based on offerings, pricing and promotions, customer service, mobile app, user experience and benefits, and security. To see a comprehensive breakdown of our methodology, please visit see our Cryptocurrency Methodology page.
Gemini builds crypto products to help you buy, sell, and store your bitcoin and cryptocurrency. You can buy bitcoin and crypto instantly and access all the tools you need to understand the crypto market and start investing, all through one clear, attractive interface. Gemini Crypto Platform offers excellent account management options. You can manage your account at a glance, view your account balance 24-hour changes and percent changes. Get started with Gemini now.