Bitcoin exchange reserve has fallen off a cliff, on-chain analysis shows. This behavior is usually a bullish indicator for the BTC market.
Bitcoin All Exchanges Reserve Is Down
As pointed out by a CryptoQuant post, the BTC all exchanges reserve indicator has surged downhill over the past couple of days.
The Bitcoin all exchanges reserve is an indicator that shows the amount of BTC stored in wallets of all exchanges. When the metric's value goes up, it means more investors are sending their crypto to exchanges.
More BTC in exchanges implies a selling pressure. On the other hand, when its value goes down, it means investors are sending their coins from exchange wallets to personal ones.
Related Reading | Bitcoin To Reach New All-Time Highs, Market Strategist
Here is a chart showing the trend in the value of the BTC all exchanges reserve over the last two months:
The BTC all exchanges reserve seems to have steeply declined | Source: CryptoQuant
As the above graph shows, the metric has fallen down with quite the steep slope. Just over the past two days, the indicator has dropped more than 100K Bitcoin in value!
Since the value of the indicator going down means more BTC moving out of exchanges, it might mean that there is a buying pressure in the market. The price should be affected positively by this.
Related Reading | Survey Says! Institutional Investors Are Still Bullish On Bitcoin
A look at outflow charts of popular exchanges shows massive movement. Coinbase Pro saw 30k BTC exiting the platform on Wednesday, while Binance, the largest exchange by trading volume, saw around 29k BTC moving out of its wallets.
A couple of days back, Binance observed huge netflows. The price moved positively afterwards so that it's possible that the all exchanges reserve plummeting will make the price go up this time too.
Bitcoin Price
At the time of writing, Bitcoin's price is floating around $39.8k, up 24% in the last 7 days. Over the last month, the crypto has gained almost 15% in value.
Here is a chart that shows the trend in the price of BTC over the last 3 months: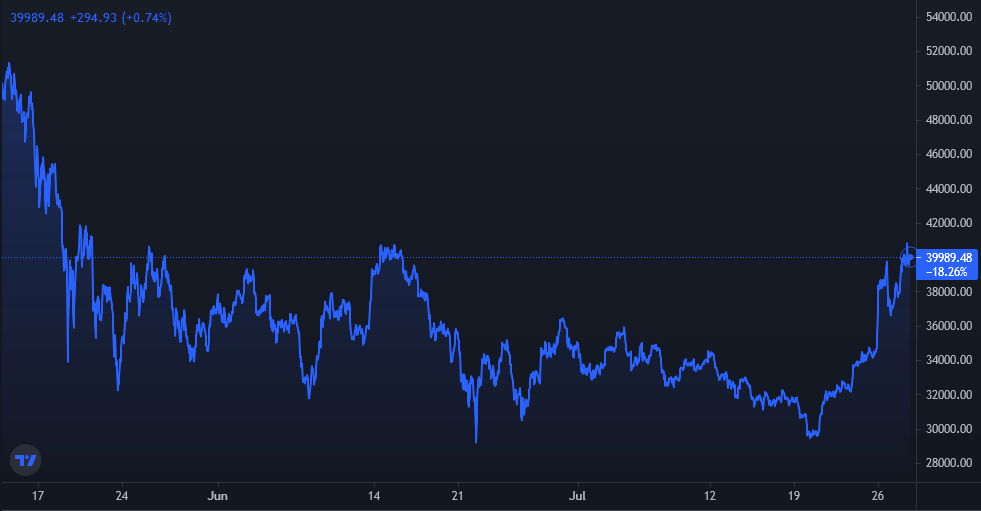 BTC catches a sharp upwards trend | Source: BTCUSD on TradingView
After struggling in a range bound market for quite the while, Bitcoin has finally gained some of the volatility back. The rapid price swing of $34.5k to $39.5k was accompanied by the biggest short squeeze in the history of the coin as short sellers hurried to cut their loses.
The crypto is now testing the $40k resistance level, and if it can keep the rally up and push through, it's likely that the coin will reach the $45k mark. However, if the level can't be surpassed, BTC could fall back to a range bound market.