Dogecoin is trading inside a consistent downtrend.
On Monday, the global rout in markets made DOGE give up Saturday temporary gains, making new lows for this month.
Buyers waiting for the right time to pick up Dogecoin at $0.15.
DogeCoin has been no match against the global risk-off sentiment that made trembled through markets. Investors are worried about a third wave of Covid as cases spike again in countries that are reopening. In this risk-off move, the first items to be dumped out of portfolios are cryptocurrencies and stocks.
Dogecoin had an outlier rally during the last weekend, with price action back above $0.20, almost paring the losses that occurred during the previous week. On Sunday, bears came back and took DOGE back to the downtrend that has dominated price action for the last couple of months.
Pull the bandaid off already, so Dogecoin can finally attract buyers back again
Dogecoin holders have already  lost 44% of their money since June 24. The false breakout to the upside on Saturday hurt many buyers who jumped the gun too soon, providing a bull trap. Dogecoin will have to trade at a discount for it to attract those buyers back again. In the meantime, the same pattern can be spotted in Bitcoin and Ripple, as well. 
More worrying for Dogecoin bulld is that DOGE also broke below the 200-daily Simple Moving Average. So, any recovery to the upside will be tough to tackle around $0.18 where this SMA is located at the time of writing. Buyers will be aware that upside might be limited until speed picks up, and Dogecoin can profit from more positive tailwinds if global markets turn back to risk-on.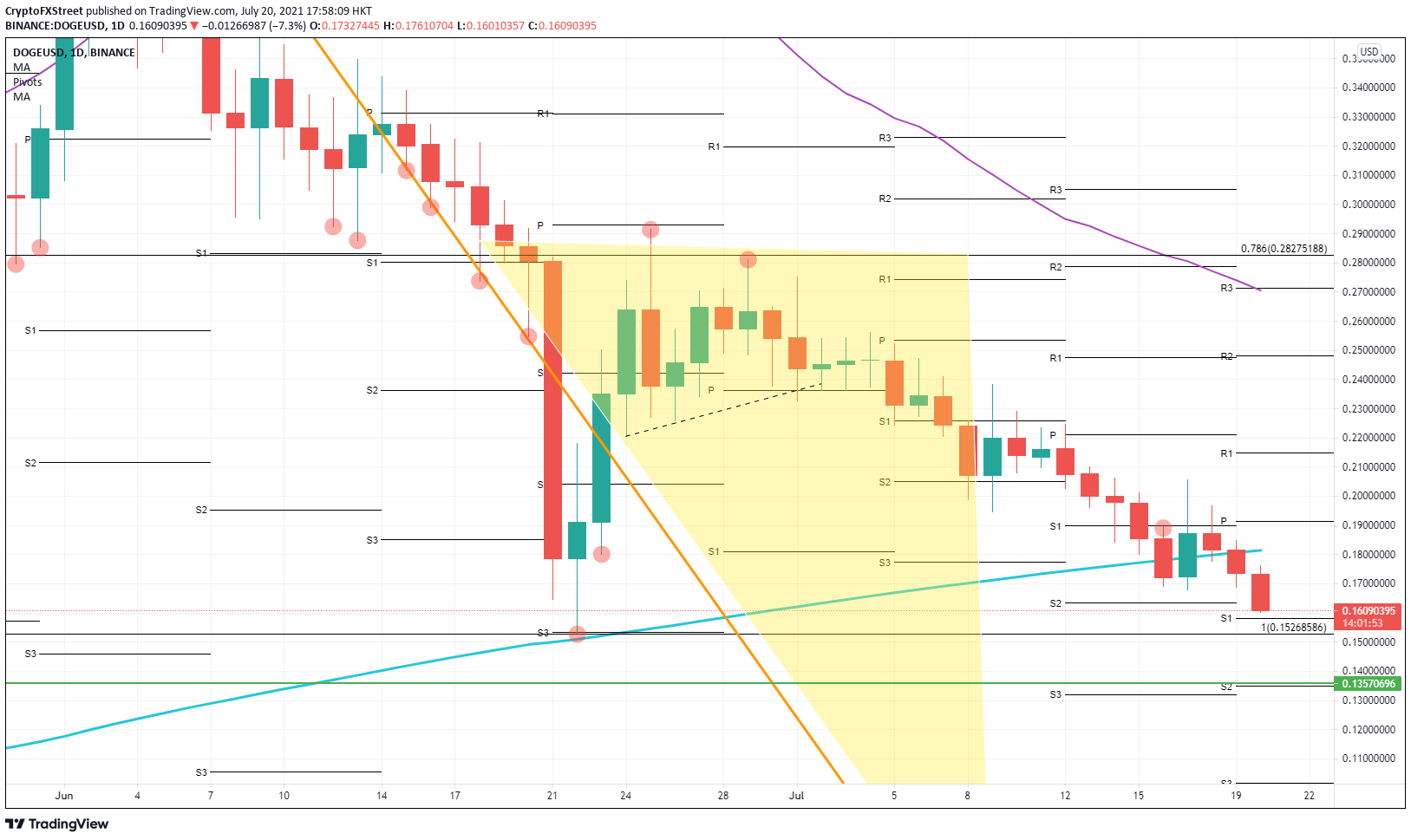 DOGE/USD daily chart
With this mix of elements, buyers will wait for the right timing to step in and buy Dogecoin. Expect sellers to push further to complete the trade that is unfolding at the moment, targeting the support area around $0.1527. But with possibly a few stops just below from long positions on June 21, expect a very short push towards $0.15.
Any potential DOGE bulls need to beware that bullish potential might only be realized once global market sentiment can brush off the current risk-off worry on covid spread, and stocks rally back up higher again. That should act as a favorable tailwind for cryptocurrencies and help Dogecoin past the 200-daily SMA.