Ethereum has been slowing down on its bullish momentum. The second cryptocurrency by market cap trades at $3,066 with a 4.2% loss in the daily chart.
After two weeks of profits and an incredible rally from the low at $2,000, mostly driven by the implementation of EIP-1559, Ethereum could see some downside in the short term.
The In/Out of the Money Around Price (IOMAP) metric, used to measure the average purchase price of a crypto asset and compared it to its current price, from IntoTheBlock suggests Ethereum sits at "stable support".
Analyst Ali Martinez shared the chart below and indicated that over 230,000 addresses bought 7,33 million ETH between $2,970 and $3,080. Thus, ETH's price must hold above these levels to prevent a bearish trend in the short term. Martinez added:
Any downswing below this price range could encourage investors to book profits quickly before their investments go "Out of the Money."
One of the key drivers for Ethereum has been institutional adoption that sees great potential in its ecosystem. Additional data provided by Arcane Research suggests adoption is still on the rise with ETH-based derivatives on the rise.
The research firm has recorded an increase in open interest (OI) for Ethereum futures on the Chicago Mercantile Exchange (CME). The ETH trading volumes have been gaining dominance and stand at around 30% of Bitcoin (BTC) and the open interest at 27%.
The OI of CME's EH futures currently sits at an all-time high of $650 million. The OI of the bitcoin futures sits at $1.8 bn but is down substantially from its Feb 18th peak of $3.3 billion. Ether futures now account for 26.5% of the total OI in CME's crypto futures.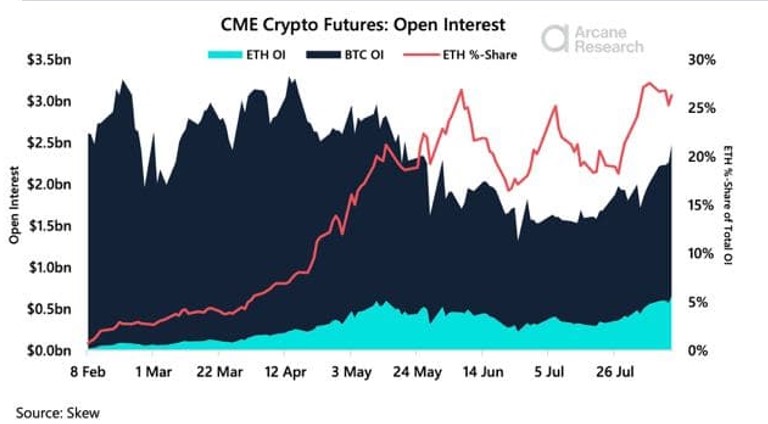 Ethereum Takes Market Share Away From Bitcoin
The OI also suggests that institutions are "eagerly" building up their Ethereum (ETH) positions at the moment, Arcane Research said. Most likely, a consequence of the EIP-1559 and the expectations of future appreciation due to the network's new fee model.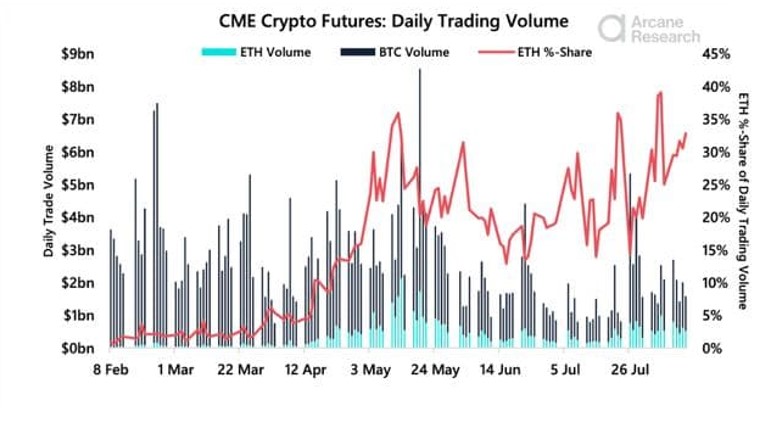 As the chart shows, ETH futures trading volume has been on a rise since mid-April 12 and only slow down during May and July's crypto market crash. During this time Ethereum went as low as $1,650 but was able to quickly recover both in price and in the aforementioned metric.
The daily trading volume of the CME ETH futures has also seen a significant uptick in market share recently. On Friday, Aug 13th, the trading volume of the ETH futures accounted for 33% of the total trading volume in CME's crypto futures. With the increased dominance of the ETH futures and the growing contango, a bullish sentiment around ETH among institutional investors seems to be brewing.