Dogecoin (DOGE/USD) was expected to record strong gains last week, after its sister token, Shiba Inu (SHIB/USD), posted over 300% in gains. Sure, DOGE/USD posted gains, but not enough to take it to the same wavelengths as SHIB/USD.
At the time of writing, DOGE/USD had gone up by 8.93% in the past seven days. However, the meme coin has also gone down by 4.47% in the last 24 hours, seemingly in need of a miracle to replicate the weekly gains.
DOGE/USD Resisted at 0.26
In our previous outlook, we insisted that we could only buy DOGE/USD if it broke past the 0.26 resistance, which was holding it back. Although the meme token broke past this level briefly, it closed lower, leaving a bearish pin bar that has pushed prices lower. 
Now, with the bearish move, we project that DOGE/USD will hit lower levels. The technical levels in the chart below show why a drop in prices is imminent.
DOGE/USD – A 4-Hour Technical Outlook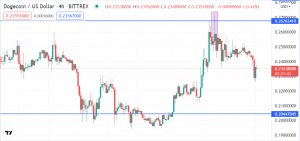 Looking at the 4-hour chart, DOGE/USD found support at the 0.226 level over the weekend, as prices jumped up slightly to 0.237. From the chart, 0.237 is also acting as another minor resistance, and DOGE/USD is already trading below this level. Thus, we can see that the meme token is coming under increasing pressure and is already forming lower highs and lower lows, to confirm the bearish trend.
At the moment, the 0.26 resistance looks out of sight, unless DOGE/USD finds some strong bullish sentiment, which is currently lacking. As a result, we see lower lows as the more realistic scenario.
$0.20 in Focus for DOGE/USD
Although DOGE/USD could continue getting support at the 0.226 level, I see the 0.2044 level as the next possible level. It is the next significant support for DOGE/USD, which means that the crypto token could plunge further in the current bearish move. 
DOGE/USD Trade Idea
There is no clear trade setup on DOGE/USD at the moment. However, given the current bearish move, I would recommend sell-trades, as long as prices hold below 0.26. 
Nevertheless, we should watch for an abrupt change of momentum, as similar moves seen in SHIB/USD could occur for DOGE/USD. If such a development occurs, we should wait for DOGE/USD to clear the 0.26 resistance before entering any buy trades. Good luck!