Dogecoin (DOGE/USD) has not been the most promising token for the last two months, while other cryptocurrencies were making headlines. At its current price of 0.27, the meme token is at almost a third of its all-time high of almost 0.74. 
However, we can appreciate that the current price of DOGE/USD has made a significant jump from a low of under 0.16, which it reached on July 21. It has been making steady gains since its low of 0.21 on October 12, and the rise has been indicating a potential bullish run.
DOGE/USD – A 4-Hour Technical Outlook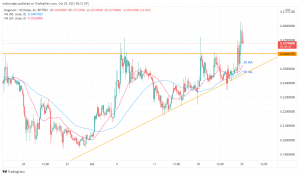 Observed on a 4-hour chart, we can see that DOGE/USD is trading higher. It is already up by 3.01% in the last 24 hours, on a retreat from a high above 0.28. 
These are clear signs that DOGE/USD could surge further.
Higher highs and higher lows – Since October 12, DOGE/USD has been rising steadily, making higher highs and higher lows. This is one of the clear signs that confirm that DOGE/USD is on a bullish move and higher levels are possible.
Moving averages are supporting the price – The price of DOGE/USD is clearly above the 50 MA (blue) and the 20 MA (red). The two moving averages are supporting the price, with further gains expected.
The Breakout has already happened – This is the clearest sign that DOGE/USD is set to go higher. DOGE/USD managed to breach the 0.26 resistance, which, together with the trendline, was forming an ascending triangle. Remember that the 0.26 resistance level has been holding DOGE/USD back for some time. Each time the meme token broke past that level, it faced resistance and closed lower. Now, DOGE/USD has closed higher, moving in a parabolic pattern since Sunday. 
Improved Sentiment Boosting DOGE/USD
For some time, investors have believed that Elon Musk, who is currently the richest man in the world, holds Shiba Inu, after his tweet of the Floki dog. The tweet helped SHIB/USD to surge more than 400%, and the strong momentum has continued to date.
Nonetheless, another tweet by Musk on Sunday confirmed that he owns Dogecoin, alongside Bitcoin and Ethereum, with no mention of Shiba Inu. In another tweet, Musk said that even people on Tesla's production line own Dogecoin. Although Shiba fans were still adamant and rebuked Musk's comments, his revelation is already boosting DOGE/USD, which has surged since Sunday. 
DOGE/USD Trade Idea
At the moment, the technical pointers for DOGE/USD align with the fundamentals, which backs a bullish view of the cryptocurrency. I might consider a buy at the current level, but it would be more appropriate to wait for the current correction to find support at or near 0.26, before entering a buy trade. 
Based on the current momentum, I see DOGE/USD continuing up to a price of at least 0.29.  Other targets are possible, at 0.31 and 0.32, if the current momentum continues and DOGE/USD continues to attract fans. Happy trading!