CoinMarketCap listed three fake Shiba Inu contract addresses on their official platform in a recent update. According to a Tweet posted from the official Shiba Inu account, the Binance Smart Chain, Solana, and Terra addresses are all fake and should be avoided at all costs.
Official Statement regarding the recent actions by @CoinMarketCap . pic.twitter.com/DXP2wZRhYC

— Shib (@Shibtoken) January 13, 2022
It's unclear why CoinMarketCap listed the alternative addresses, but such oversight is highly detrimental not only to Shiba Inu but to the whole crypto community overall.
At writing, we were still able to see the three alternative addresses on CoinMarketCap in the dropdown section next to Shiba Inu's official Ethereum contract address: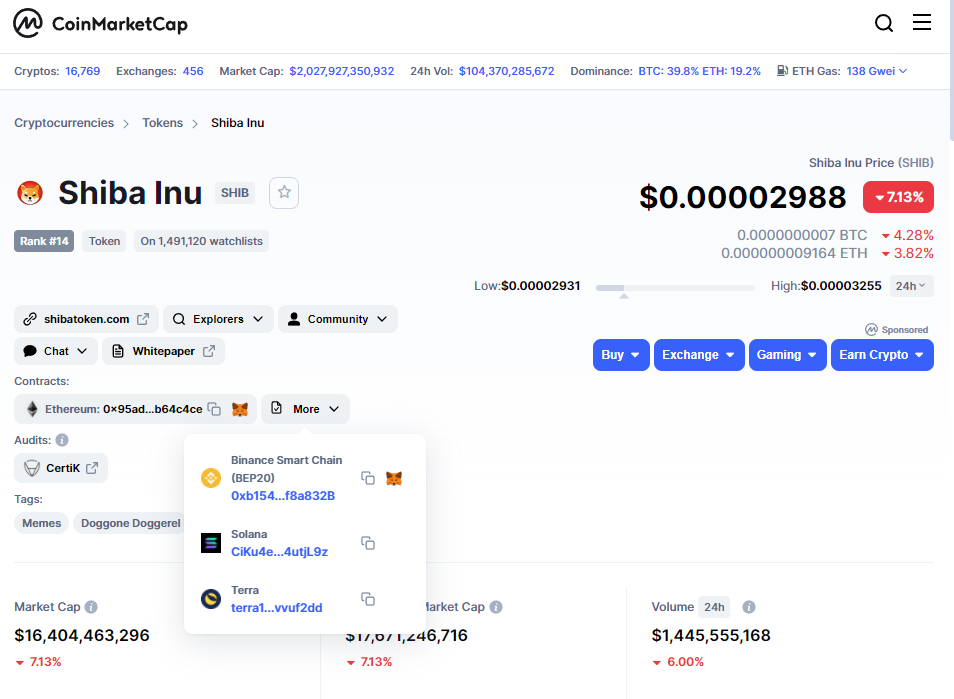 As of writing this article, CMC still hasn't addressed the mishap.
As a warning to all traders, make sure not to interact with any fake contracts as your funds will be irreversibly stolen.
Unfortunately, looking at the addresses on CMC, there are numerous transactions on each of the chains. That means that investors did send money to those addresses, which is quite concerning.
We can only hope that CoinMarketCap addresses this issue sooner than later.
At writing, Shiba Inu is trading at $0.00002977, down 7% in the past 24-hours. The current bearish momentum is most likely to the CMC debacle, which should hopefully be resolved soon.
Disclosure: This is not trading or investment advice. Always do your research before buying any cryptocurrency.
---
Also Read:
These 3 Shiba Inu Themed Meme Coins Gained Over 20% In the Past 24 Hours
Follow us on Twitter @thevrsoldier to stay updated with the latest cryptocurrency news!
Image Source: Alexander Weickart/Shutterstock.com