Dogecoin has exploded recently, rising up more than 100% in the last seven days. Is rival memecoin Shiba Inu next in line for a sharp surge?
Dogecoin Records 107% Weekly Gains, While Shiba Inu Only Saw A 26% Rise
DOGE has observed some incredible bullish momentum in recent days, and while SHIB has also seen some decent returns, its gains are nowhere near as good as the original memecoin's.
First, let's talk about Dogecoin's stats. At the time of writing, DOGE's price is trading around $0.1232, up 7% in the last 24 hours.
Here is a chart that shows the recent trend in the value of the crypto:
Looks like the price of the coin has been moving sideways since the surge a couple of days ago | Source: DOGEUSD on TradingView
As you can see in the above graph, Dogecoin has enjoyed sharp upwards movement lately, with the coin's weekly gains currently standing at a massive 107%. In terms of monthly gains, DOGE is up 110% at the moment.
Though, the memecoin's growth has certainly come to a halt in the last couple of days, and it has in fact declined a little since its peak.
Moving onto Shiba Inu, its price is floating around $0.00001273 right now, up 5% during the past day. The below chart displays how the DOGE-cousin has performed recently.
The value of the crypto seems to have seen some downtrend since the high around two days back | Source: SHIBUSD on TradingView
The week has also been good for Shiba Inu, as the crypto has picked up around 26% in positive returns during the period.
But clearly, these gains aren't as impressive as what DOGE has managed to get. In the last couple of days, the crypto has also declined more sharply than Dogecoin.
However, while the original memecoin might have its rival coin beat for now, analytics firm Santiment has pointed out that SHIB has historically followed pumps in DOGE.
According to data from the platform, Shiba Inu's trading volume has been gaining some steam, possibly building up to a bigger move.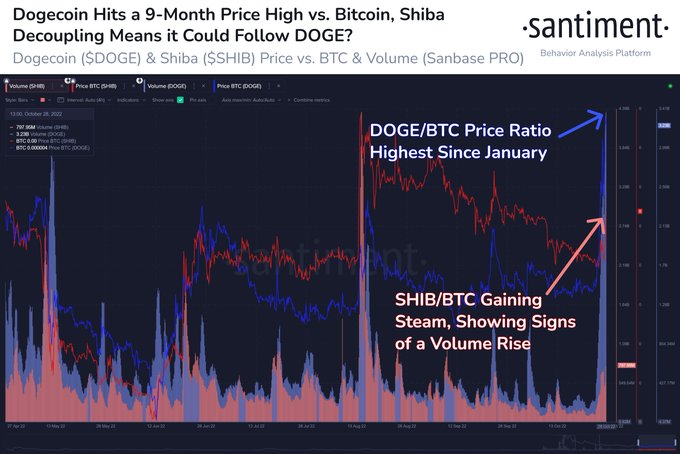 SHIB volume is following after DOGE's rise | Source: Santiment
It now remains to be seen whether Shiba Inu can keep going and put together enough bullish momentum so as to touch the same heights as Dogecoin.
SHIB Vs DOGE In Terms Of Market Cap
Thanks to Dogecoin's impressive run, the crypto's market cap has now become the 8th largest in the entire sector, displacing Cardano for the spot.
Shiba Inu, however, is still stuck in the #13 position. Below is a table that shows how the two biggest memecoins stand among the wider crypto market.
DOGE's market cap is almost $10 billion more than SHIB's | Source: CoinMarketCap
Featured image from Kevin_Y on Pixabay.com, charts from TradingView.com, Santiment.net